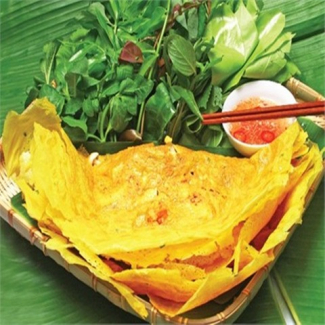 Vietnamese crepe Bánh xèo, literally "sizzling pancake", named for the loud sizzling sound it makes when the rice batter is poured into the hot skillet. 
This fried pancake has a south Vietnamese style and variant named Bánh khoái which is present in central Vietnam and considered more or less a same dish. Bánh khoái looks like similar to Bánh xèo, but it's smaller and contains chunks of pork rather than ground pork.
However, for some locals in central Vietnam Bánh khoái is another component than the southern style Bánh xèo of Vietnamese cuisine. The truth is, the way of Bánh xèo's compsumtion is more than a single regional style . There are a range of local ingredients depending upon the region it's served.
Whatever are the origin ingredients or dipping sauce, the flour mixture of batter and the common stuffings, the Vietnam's original pancake has begotten countless variations. In central Vietnam Binh Dinh, Quang Ngai and Quang Nam provinces, locals wrap their medium-sized bánh xèo in rice paper, while further south in Khanh Hoa, Ninh Thuan and Binh Thuan, cooks trade pork and bean sprouts for seafood and a particularly delicious combination of fish sauce, chilis and peanut sauce. These smaller crepes are sometimes wrapped in fresh greens or not wrapped at all.
The further south you go, the bigger the bánh xèo gets. In Can Tho, Mekong Delta region, Bien Hoa and Saigon, giant, round, thin crepes packed with mung bean and pork, shrimp, bean sprouts, as well coming with an accompanying plate of fresh greens which are more other vegetables and herbs.
In Mekong Delta earlier Bánh xèo was always provided with Bánh khọt and Bánh cống together from a same vendor, Just since one or two decades. The Bánh cống has been separated from Bánh xèo and Bánh khọt and is mostly made together with fried spring roll (Chả giò) by same food stand.
Read more